How to Store a Paddle Board
Published on 5/3/2023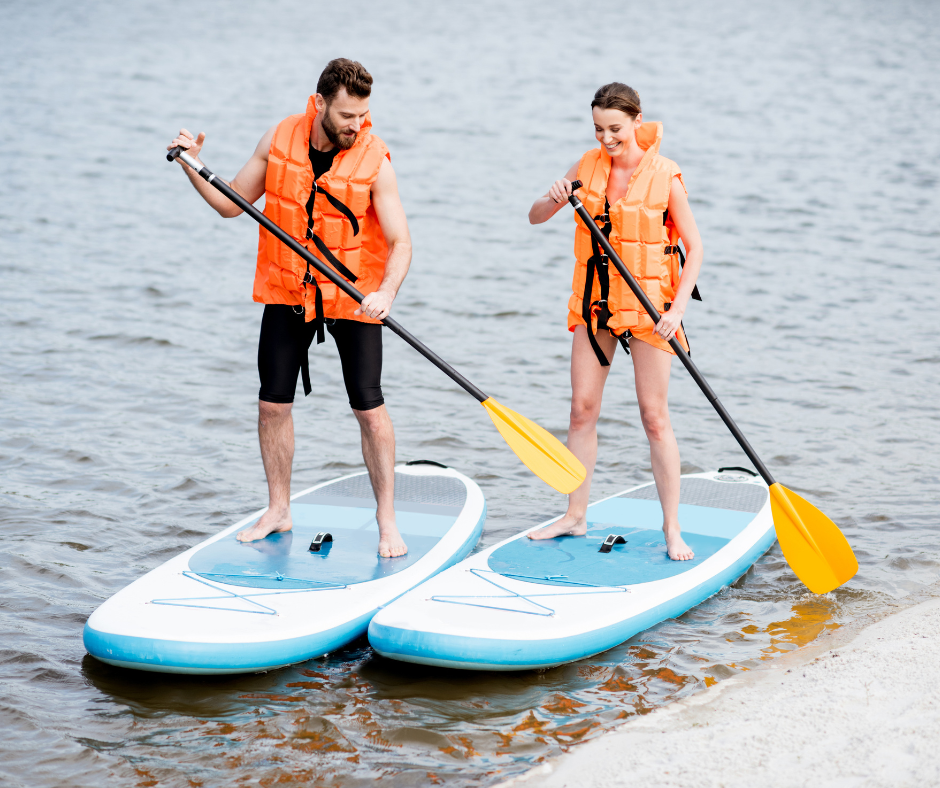 How to Properly Store a Paddle Board
Daily paddle board storage can be as simple as carefully placing the board on the wall or placing it on an outdoor paddle board rack at night. Why complicate things if you're back in the water the next day? This grab-and-go solution may be convenient in the short term but you should also consider long-term storage of the paddle board during the off-season. Especially if you live in a city with cold and harsh winters every year it is important to find the best way to store your paddle board indoors during the colder months to preserve the life of your paddle board for years to come. So, if you're in the market for your first paddle board or need to figure out how to properly store your beloved paddle board for the off-season we've got you covered.
Here are some helpful tips to help you find the best solution for you:
Where Should I Store My Paddle Board?
Where you store your paddle board depends on the type of space available and accessible. Maybe you're lucky enough to have a large garage where you can easily install paddle board storage racks for you and your family. On the other hand, you may live in a small one-bedroom or studio apartment and storing your paddle board indoors is not a viable option.
Regardless of the situation there are several important factors to consider when looking for paddle board storage space:
• Sun exposure - Since paddle boards are often used outdoors it can be surprising that prolonged exposure to direct sunlight can cause damage over time. Protect the circuit board enclosure and maintain its original color by storing it indoors or away from UV radiation.
• Humidity - Keeping the paddle in a reasonably dry storage area will help prevent mold and mildew growth. Not to mention the delicious smell that usually comes with these items.
• Weather – It's a no brainer that you need to protect your pinboard from weather like rain snow frost and snow. However extreme heat or cold can damage your paddle board so consider storing your paddle board in a cool place when storing it for long periods of time.
How to Store a Paddle Board Indoors
Keeping your paddle board at home is a great long term storage option if you have the space, especially during the winter months. Keeping your board indoors helps keep your board safe and protected from all the factors listed above that can damage or warp your board.
Paddle Board Storage Hooks
Footrest storage hooks are another great storage option especially if wall space is limited. This compact storage solution can be used in almost any room or garage and often includes some form of padding to help protect baseboards and prevent scratches. Even most paddle board storage hooks are super easy to install!
Decorative Paddle Board Storage
If the board is not used for several months why not use it as a decoration? Bring the love of paddle boarding into your home decor by mounting a board with hooks placed in the center wall of your living room or bedroom with extra wall space.
Should I clean the paddle board before storing it inside?
Whether you keep your pins at home for months or just overnight regular maintenance of your pins is very important. Before the paddle continues to fill the internal storage, the paddle cleaning system is complete.
How to Clean Your Paddle Board
• Rinse the board quickly with clean (not salt) water to remove dust and residual sanding salt.
• Clean the pedal board with a mild pedal-friendly soap product mixed with clean water. Rinse again when done.
• Dry the board thoroughly with a towel to prevent mold and mildew from forming.
How to Store a Paddle Board In a Storage Unit
If you don't have the option to store your paddle board indoors don't worry. While it may be ideal to store your signs indoors you can also store your paddle board outside in certain conditions.
Can I Use a Paddle Board Rack Outside?
Generally, paddle board storage racks can be used both outside and inside. Whether you're using a freestanding wall rack or another type of paddle board storage rack you should follow the same guidelines as you would when using these storage gadgets indoors. As with storing your paddle board indoors you still want to make sure your paddle board is clean and well-maintained before long-term outdoor storage. A weatherproof tarp is also highly recommended to protect the board from snow and general moisture that can seep into the outer skin of the paddle board and may cause long-term damage.